For many parents in Logan and Smithfield, there's no substitute for a good SUV. And when you drive home in the 2019 Nissan Pathfinder? A good SUV is exactly what you'll get.
A mid-sized model with seating for up to seven, the Nissan Pathfinder can offer a robust driving package grounded in great features and a powerful road performance. If you're hunting for a new family SUV, the Pathfinder might be just what you've been looking for.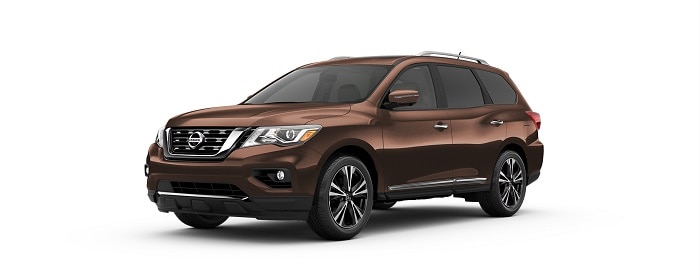 If you want more than our word to prove it, Parents Magazine recently chose the 2019 Pathfinder for a spot on its annual list of the Best Family Cars.
The magazine's editors cited a variety of reasons for the Pathfinder's inclusion. Among these were its motion-activated power liftgate, perfect for parents trying to open the hatchback with busy hands. They also acknowledged the Pathfinder's EZ Flex Seating and its unique Latch and Glide system. Designed to allow for easy third-row access even with a child seat installed, it does a lot to make the Pathfinder more useful on the road.
Parents Magazine also cited the Pathfinder's Rear Door Alert system. A special system designed to warn drivers if anything gets left in the back seats, it could serve as a vital tool for parents looking to avoid potentially tragic accidents.
Speaking about the accolades, Nissan North America's marketing VP Scott Shirley expressed pride in the Pathfinder and its accomplishments.

"We're honored to have Pathfinder included on this prestigious Parents magazine list," said Shirley. "[The] Pathfinder has always been an exceptional vehicle for families to turn up the adventure, around town or on and off the road. The 2019 Pathfinder offers the best combination of family features in the nameplate's 30-plus year history."
Available in a variety of different trims, the 2019 Pathfinder offers plenty of options for drivers with more general interests, as well. Three-zone automatic climate, remote engine start, and a robust infotainment system are just the tip of the iceberg in a feature-suite that's packed to the brim with value. It also offers a variety of advanced safety systems, including automatic emergency braking, blind-spot warnings, intelligent cruise control, and more.
Would you like to learn more about the 2019 Nissan Pathfinder? Or maybe you're interested in going home in one of your own? Reach out to the sales team at Wilson Motor Nissan. Our dealership in Logan, UT has a new Nissan inventory full of great options for drivers of all sorts. We can tell you more about everything the 2019 Pathfinder has to offer. We can even put you behind the wheel of a new model for a test drive. We have no doubts that a few minutes on the road in a new Pathfinder will show you everything you need to appreciate what it brings to the table.